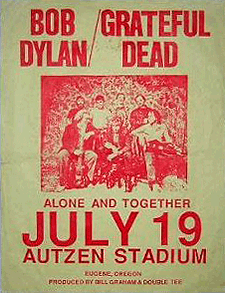 An acquaintance connected me with a couple of local hippies who were about to drive from Portsmouth, New Hampshire to Eugene, Oregon to see Bob Dylan and The Grateful Dead play a concert in mid-July. She had a dark green Volkswagen Bus, and that seemed the perfect destination in the perfect vehicle. I had a friend from Portsmouth who had moved to Eugene the year before, so I immediately called her and she told me that if I could get to her house I would have a place to stay. Suddenly I had the destination, the means, and a place to land.
Escape Velocity
Since I had done my Big Goodbye on the way to the Rainbow Gathering, leaving Portsmouth for the second time was somewhat anti-climactic. A few mornings later I gathered my few things, climbed into the van, and headed down I-95 through New York and New Jersey, picking up the Pennsylvania Turnpike headed west.
Coming Full Circle
While my traveling companions talked away to each other I slowed the van for a silent moment passing the Neshaminy Service Area, just outside North Philadelphia. It had been there that I had parked my motorcycle three summers before, looking longingly at the westbound traffic. Now I WAS the westbound traffic, and I felt my journey coming full circle.
I had a similar feeling as we drove into Ohio later that evening — I had also been here once before, five summers previously, on a bus full of students heading to camp in Colorado. Pressing my nose against the window I had tried to project myself out onto The Great Plains and feel the space. Now I was physically projecting myself through that space. At both times I had been dreaming of what I was doing at that very moment.

The view out the window of the van
I-80
somewhere in Eastern Ohio
We drove day and night, taking turns at the wheel and filling the tank. We pulled off at small towns to find food in Safeway's and look at the locals. The people I was with were an interesting diversion in their own right, but the car had a stereo and highway was clear, so that hardly mattered.
Van Trouble
Cruising out of Laramie, Wyoming around dusk on the second day the van suddenly sputtered and died. We spent a sleepless night crammed in the back on the shoulder of I-80, while each passing truck rocked us violently. Sitting in the van the next day and looking out the sliding door at the rolling prairie next to the highway I could only marvel at how much had happened, and how quickly. On the one hand I was impatient to get moving again, but on the other hand I had to look out in wonder as I was in Wyoming — a place I had only dreamed about up until that point.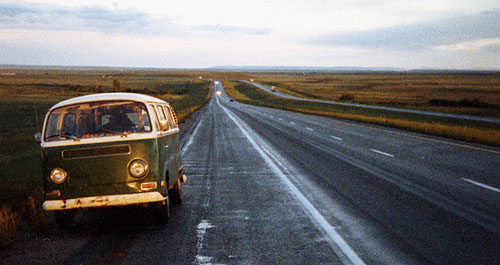 Broken down!
I-80
just west of Laramie, Wyoming
A godsend of a mechanic in Laramie named Klaus with a pile of spare Volkswagen parts put us back on the road again late the next afternoon, but by then it became clear that we were not going to be in Eugene in time for the Dylan/Dead show. After some consultation we set our sights on Berkeley, California where both of my traveling companions said they knew people who would put us up. With little choice I went along.
Relationship Trouble
The couple I was traveling with had a rocky relationship, which led to their breaking up and then getting back together again in the wee morning hours just outside Salt Lake City, Utah. Their relationship (and the van) were able to hold together long enough to get us to Berkeley, with one more minor issue of the vacuum booster on the brakes failing, which left us with next to no brakes going through the Sierra Nevada Mountains. We found an auto parts store and patched the brakes enough to get us into Berkeley but when we arrived she said she needed some space, so he and I were dumped on the sidewalk near People's Park. To my amazement the people he swore would be glad to see him really were glad to see him, and we spent the night in UC Berkeley student housing.
Crash Landing
I found myself in the care of people I hardly knew in the strange world that is Telegraph Avenue in Berkeley. I had made it where I was headed, but it was nowhere near where I wanted to be.