Martin and Catherine Rowley had come to America in the 1920's.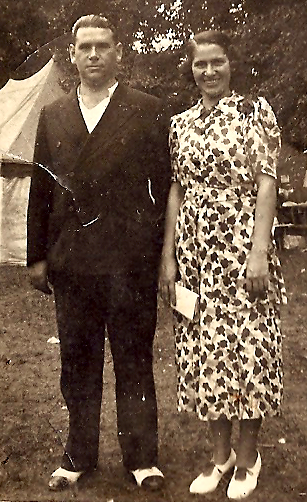 Martin & Katie circa 1950's
Philadelphia, PA
They had both been born in the same part of Ireland; County Mayo, along the road between Swinford and Charlestown. They had grown up on farms in small stone houses under thatched roofs that stood a few miles apart. They had cooked in a single large pot hung over a turf fire, and had driven cows to and from pasture between milkings. They had left home in their late teens looking for work and better opportunities in America, and both had settled among an extended group of friends and family from Mayo in Philadelphia. Once here they courted, married, and had three daughters, the oldest of which was my mother. Martin had been a coal miner for a time in England, and then a laborer and finally a trolley driver, piloting the #23 trolley up and down Germantown Avenue for 30-odd years. Katie worked as a domestic for wealthy Main Line Philadelphia families, then later got her LPN certification and worked as a visiting nurse for elderly patients.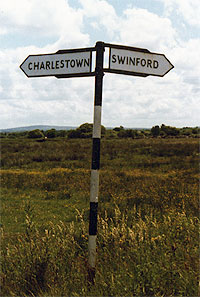 The Swinford-Charlestown Road
County Mayo, Ireland
Though they had lived in America for 60 years, Martin and Katie had never stopped being Irish. They still spoke with the thick Mayo brogue that turned my name from Brian into 'Brine'. My Grandmother always addressed me as 'ye', while my Grandfather would ask if I was seeing any girls, which with his accent sounded like 'gells', and he was awfully fond of the term 'bollocks'.
One difference I noticed even as a young lad was the role of conversation in their lives. We would regularly go to dinner at their house in Philadelphia where we would finish eating, plates would be cleared, tea would be poured, and a little conversation would start. Nothing formal or fancy, more of a "Oh, did you hear about so-and-so who's off doing such-and-such". This would lead to questions which led to a memory, which led to a story. Somehow that snipped would go on for 5 or 6 hours, yet I was never bored and I was always surprised at how time could disappear so quickly. In fact, no one seemed anything but engaged in these marathons of talking. Only later when I would go to other people's homes did I realize that some people watched football or played games to fill the time. There was never any need to fill the time with all that conversation happening.