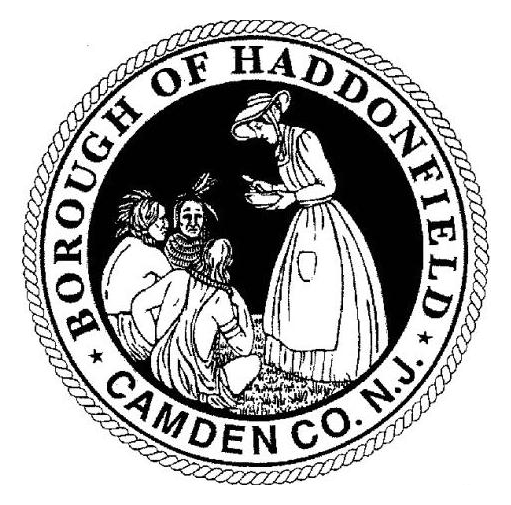 In my memory Haddonfield was an idyllic place; an enclave of well-preserved historic homes that were graced by manicured lawns and populated with perfect-looking people leading perfect-looking lives. In Winter there was sledding on the hilly streets, in Spring the town bloomed like one giant garden, in Summer the giant maple trees formed a roof of green over most of the town, and in the Autumn that roof exploded in electric yellow, orange and red. All doors were open to Trick-or-Treaters on Halloween, the whole town turned out on King's Highway to watch the Fourth of July parade and they met later that night at the Haddonfield Memorial High School to watch the fireworks. This was a community that had a lot to offer to anyone looking for a nice place to live.
Unlike the more working-class neighborhoods around it, Haddonfield was also a magnet for professionals, and their children benefited from both their parent's example and their tax dollars. The schools were well-funded, like most of the families. Growing up in Haddonfield was growing up around wealth and steeped in opportunity. This was a major selling point for the children of immigrant enclaves who wanted their children to grow up with options their parents had not had.
We moved to Haddonfield for all of the above reasons when I was about 2 years old.
112 Estaugh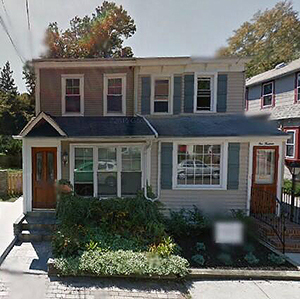 112 Estaugh Avenue
Haddonfield, New Jersey
My parents rented the left-hand side of a tidy, two-storey rented duplex at 112 Estaugh Avenue around 1967. It was a quiet street just off one of the more well-traveled roads. There were other kids our age in the neighborhood and a little corner store just across from our house. My first memories are from this house, the oldest being a birthday party in the backyard of this house that plays like a fragment of super 8 movie; dim and grainy images of children and cake in my mind, with the feel of 1960's sweet innocence.
115 Estaugh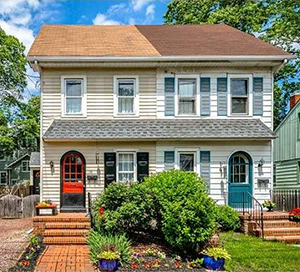 115 Estaugh Avenue
Haddonfield, New Jersey
After a couple of years my parents bought the house directly across the street at 115 Estaugh. It was also the left-hand side of a duplex, sitting nextdoor to the corner grocery store that sold penny candy and pretzel sticks. It was 3 floors and my brother and I got the attic to ourselves. It was in this house that I became conscious of the world around me. We only stayed about 2 years in this house before moving for the final time.
122 Center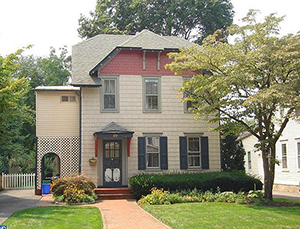 122 Center Street
Haddonfield, New Jersey
We relocated to 122 Center Street in the Summer of 1970. The house had originally been built by a man named Moses Miller in 1881 on what had been the very edge of town. Moses had run some kind of construction company, as I discovered from an old ledger book from the 1890's that I ran across while cleaning out the garage. The house was full of history, and I loved discovering each leftover vestige from previous owners and ages.