If I had been looking for adventure a few years later I would have more likely gone to the Burning Man festival in Black Rock Desert, Nevada, but in 1987 Burning Man was still a tiny event on a beach in San Francisco that no one had heard of, and the Rainbow Gathering was drawing big crowds.
The Gathering was a weeklong happening of people coming together to live according to Woodstock-era ideals of peace, love, and community. Each year a new site is selected and a weeklong commune is set within on of the US's many National Forests. The location changes each year, and in 1987 it as scheduled for the week of July 4th at The Great Smoky Mountains National Park, near Bryson City, North Carolina.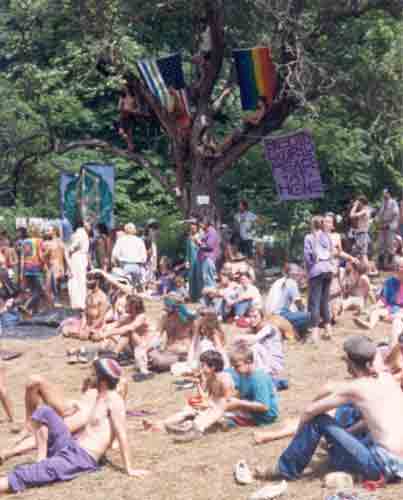 At the Rainbow Gathering
near Bryson City, North Carolina
Heading South
My friend and I left New Hampshire drove her Subaru down the East Coast and stopped for the night at my Mother's house, then living in Center City Philadelphia. From there another day's drive brought us into the Great Smoky Mountains and we camped along Skyline Drive. The next morning we found the rough location on the map where the gathering was supposed to be and started looking for signs of Hippie life.
Welcome Home Brother!
We found the gathering at a curve in the road marked by a contingent of North Carolina State Police. After being given 3 minutes to unload under the watchful eyes of the troopers we parked the car and headed up the hill to the gathering. We camped in the woods, joined in communal meals, danced in drum circles, and saw more Hippies than I thought still existed.
Not All Fun and Games
During the course of the week I got Giardia from polluted water and my traveling companion managed to get a massive gash on her thigh which required something like 50 stitches to close. Needless to say, she would not be continuing on to California. She suggested that I find another ride from one of the several converted school busses of the Merry Prankster paradigm that were going to be leaving the Gathering at week's end. Her mother in Maine was making arrangements to fly down and pick her up, but I told her that I would drive her back home. I just didn't feel right leaving her lying stitched up on a hospital bed.
Heading North
I loaded all our things into her car, picked up my traveling companion at Bryson City hospital, and drove back the way we had come, retracing the familiar route up Interstate 95. Two days later, I dropped her off at her mother's house in Kittery, Maine after a welcomed night's rest at a cheap motel directly across from the main gates of the Quantico Marine Base in Quantico, Virginia.
Back Where I Started
Less than two weeks after I'd quit Portsmouth for good I was once again sitting on a bench in Market Square. I went back to my friends I'd said goodbye to, said hello, told my story, and asked if they knew anyone else headed West ...