I flew from Newark to Gatwick Airport outside London, hardly sleeping from excitement and just catching a glimpse of Iceland through the window of the plane as the sun came up. After clearing customs and taking a tube ride into London, I had a short, bleary-eyed walk past Buckingham Palace and a lot of red phone booths before getting on a train from Euston Station to Manchester.
My Grandfather's brother, Tom Rowley, had also left the family farm in Swinford to find work. I had met him once as a very old man when he and two of his sisters had visited Martin, but he had since passed away. He'd lived in both Boston and Philadelphia for a time and eventually settled in Manchester, England. His family still lived there and were expecting me. When I arrived I found that one of the family sons was my age, and so I spent a week of evenings in Manchester's Irish bars and days watching the endless Cricket matches on TV before he dropped me at the ferry terminal in Liverpool for an overnight sail to Ireland.
Ferry to Dublin
The ferry made a leisurely crossing from Liverpool to Dublin, departing in the evening and arriving in the morning. I took a walk around the ship, and quickly found the bar on board. I met a few interesting folks there, but after just one pint ended up out on deck late into the evening, just letting where I was soak in. Since it was late June and Ireland is at a northern attitude, the sky remained light almost all night long. After very little sleep laying under my sleeping bag by the bulkhead, I got my first look at Ireland in the morning sunshine. My only thought was that it was unnaturally bright green, with rolling hills disappearing off into the distance. After getting off the ferry a series of rides took me out of Dublin, via Mullingar, and into Sligo, where I turned north to head to Donegal, arriving in Buncrana by sunset.
Donegal
I hung out in Donegal for a few days, meeting my family there and seeing the sights. Soon it was time to head south to Mayo, so I hitched down a few days later.
Killasser
I walked down the country lane in the last of the afternoon sunshine and asked farmers working their fields the way to Carrowleambeg. Whether they actually knew or not they pointed me on and within an hour or so I was walking up the drive to a small, white house where Martin's sister Maggie still lived with her son and his family. The house had been built by Martin in the early 20's just before he left. It seemed like so little time since I had left America and now I was sitting by the turf fire in the kitchen of a family home I'd never been to, drinking tea with a family that I'd never met.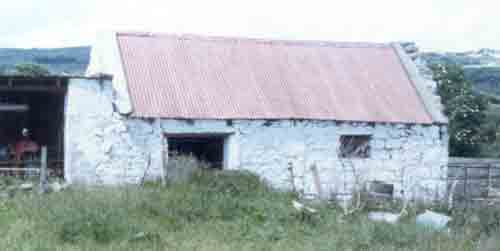 The house where Martin grew up

Killasser,
County Mayo, Ireland
The homestead in Killasser is part of a hamlet known locally as Carrowleambeg, which is Gaelic for "Small William's land". Nearby is a place called "big William's land" as well. The land was sub-divided from a larger plot some generations back, but the mysterious William's name stays with it. Across the driveway from the new house is the old house, now used as a milking shed for the cows. I was amazed to stand in this shed which could barely fit 4 cows and the milk tank and think of the parents and 8 children who grew up on that tiny building. Martin had always been so proud of owning his very own row house in Philadelphia, and standing in the house he came from I could see why.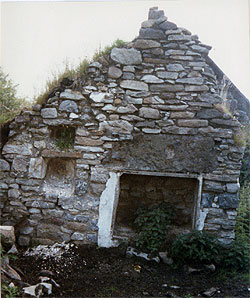 The hearth in the house
where Katie grew up

Cloonlumney,
County Mayo, Ireland
Cloonlumney
The Swinford-Charlestown road runs past Killasser and then a couple of miles through farm fields and over the River Moi just before the town of Swinford. Right after the river a small dirt road runs off the main paved road with no sign to mark it's name. My Uncle Marty Joe took me up there one day to see Cloonlumney, the place where Catherine grew up. There's a new house in the front and out back is the walls from the old house, unused since the 1930's. The thatching is long gone, as well as most of the plaster on the inside of the stone walls. The folks who lived there now (the daughter of one of Katie's brothers and her son) seemed amused at my interest in an old shell of a house, and I got the impression that the only reason it still stood in their backyard was that they did not have the time or inclination to tear it down, so there it remained.
Swinford
Next I moved into the town of Swinford, where the son of one of Katie's brothers lived with his family. He was a 'Joiner', which we would call a woodworker and owned a joinery shop in town that made doors and windows in the Irish style. They also had a son my age and I spent another few days seeing what life would be like had I grown up in Ireland.
Tubbercurry
Finally I went to stay with a cousin who had gone to stay with her Uncle Martin and Aunt Katie in Philadelphia in the 1950's. She'd returned to Ireland and married a man from nearby Sligo and lived there still. I finished my visit with family hearing stories of Martin and Katie as young adults from someone who had lived with them. It was a fitting end to the journey.
A great part of my time with my Irish family I spent not doing anything at all. Just to be in the place where Martin and Katie had grown up, to feel fleeting impressions of them when they were my age was enough for me. Part of why I had come was to 'bring them home', and visiting both of their birthplaces felt like the completion of a sacred duty.
As the midpoint of my trip approached I realized how precious little time I had and I said goodbye to the old folks around Swinford. I was given a lift to a nearby town and left off to begin hitching around the country for a few weeks.