For the second half of my time in Ireland I hitchhiked around the country staying in hostels and meeting other travelers. While I had spent so much time dreaming of traveling in the US I now found myself spending my days with other travelers from all over the world. (This proved to be one of the best parts of the trip, though one that I had not anticipated.)
Hostelling
I did not have any experience with youth hostels, but since they were the cheapest way to stay, and a good way to meet people, I used them exclusively.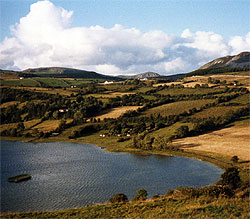 The Lake Isle of Innisfree
County Sligo, Ireland
From Swinford I headed north up to Galway, then down the coast through county Galway, Dingle, Cork, and then up to Dublin. I spent a whole week in the town of Doolin — a haven for Irish music and 'great crack' that sits by the Cliffs of Moher. With litte time remaining I took a quick trip around the Ring of Kerry before making my way back to Dublin to catch the return ferry to England. After a last overnight visit with my family in Manchester I was on the train for London and my flight back to the States.
Celeste
The trip through Ireland on my own was about 5 weeks long, but having by then adjusted to the slow pace of Ireland it felt much longer. I met a French woman in a hostel in Galway and we traveled together on and off for the rest of my time there.
Singing for my Supper
I hung out in the kitchen in Killarney doing a little dishwashing to pay for dinner and in Doolin helped the hostel owner put up sheet rock to pay for a couple night's stay. I climbed the Cliffs of Moher above the Antlantic breakers, and hung out with travelers from all over the world in the hostels. I was befriended by a Socialist bar owner who thought I was a kindred spirit because I could remember the lyrics to "Alice's Restaurant Massacree" even after several flagons of cider. It was a wild and wonderful journey through a beautiful country.
Though it was not what I had originally set out to do, I was getting the travel experience that I had been after.