Lowell, Oregon is a small hamlet just outside of Eugene. Downtown consists of two country stores, a mechanic shop, and a large warehouse and maintenance facility that was owned by the Forest Service — that is, until they sold it at auction to a hippie bus company from California. Gardner bought the facility and then turned it into a bus storage and renovation shop.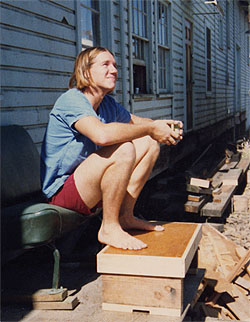 morning tea at my warehouse home
Lowell, Oregon
I moved into the "apartment" in the shop, which consisted of a bed built out of spare lumber in one end of a big room. A desk and makeshift kitchen sat opposite, and at the other end of the room was the wood shop with drill press, table saw, etc. The shower was a hose nozzle hooked to the window bars above a floor drain in the Men's room, so I used to shower looking out onto the main street of Lowell.
Sawing
The shop was an odd place to live, and I had plenty of time to explore the old building in between bursts of work. First I cleaned up and organized bus parts for the Head Mechanic. Next I built a battery charging shed so that the giant bus batteries could charge outside without risking the dangerous vapors they gave off collecting and exploding. Once the Head Mechanic saw that I was good with a hammer and saw he asked me to build him "a table he could park a bus on" so that he had a proper place to re-build the giant diesel engines that powered the busses. I spent a week sawing and bolting 6" x 8" timbers into the sturdiest table I'd ever seen.
Wrenching
I also got to learn about busses from the mechanics working in the shop. They were all too happy to have someone doing some of the grunt work of changing tires and removing transmissions, so I got a pretty good education. My friend from New Hampshire days who drove for them also came by a for long weekend and took me out driving in one of the busses on the back roads around Lowell when no one was around. I was grateful for the driving lessons because I still had hopes of becoming a driver, but I knew that would be difficult being way out in the country where I was.
Acclimating
While Lowell was not my idea of the ideal destination I was glad to have a time and place to adjust to this new phase of life. I had spent so long in contemplative silence that it was not an easy habit to kick cold turkey. Living in Lowell allowed me time to reflect on recent changes and get used to the idea of living on the Left Coast.