I lived and worked in Lowell for about a month, then one day I got a call from Gardner. He needed some parts brought down to San Francisco immediately. He wanted me to dig them out of the warehouse and bring them down to San Francisco on the bus heading south the next day. They also had more work at World Headquarters than in Lowell, so I was going to work in San Francisco for a while.
Back on the Bus
I had enjoyed my time in Lowell, but it was mighty quiet up there and spending time in San Francisco sounded great. Plus, I was glad to ride the bus again. This time there was a group of Tortoise folks coming down from Seattle, and since they'd heard that they were picking up 'some new guy' in Eugene they were on the lookout for me. I had long hair and a box of greasy bus parts, so I was hard to miss.
The trip south only increased my desire to drive, and this time I got a lot more information from the drivers and other Tortoise folks about how the company worked and what I would need to do to get behind the wheel. Getting my license was still the big obstacle, but I found out that there were sometimes training trips put together for promising drivers, but at only 22 I was still pretty young to be considered. It gave me some hope though.
Tortoise Towers
I learned on my arrival that the term "World Headquarters" was something of an inside joke. World Headquarters (AKA Tortoise Towers) was a converted one story single-family home in the Bayview section of San Francisco, wedged between an Asian food importer and an industrial lubricant distributor, and positioned in the neighborhood of both a sewage treatment plant and a lard rendering plant. The smell would vary according to the wind direction, mixing in with the fennel that grew wild on all the vacant lots. (I'm no fan of sewage, but effluent actually smells better than lard rendering.) It was gritty and industrial, but it was a free place to live in a very expensive city, so I was happy to be there.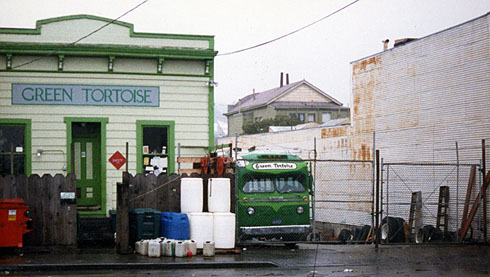 Green Tortoise World Headquarters
San Francisco, California
Moving into Tortoise Towers consisted of putting your bag a communal shelf in the shower room. I had my choice of busses to sleep on, depending which one was in town at any given point. If you didn't take your sleeping bag off the bus in the morning it might go into "Tortoise Orbit", which meant it would go out on a trip to Seattle, Mexico, or Boston and you'd have to grab it off the bus when it came around again — if it was still there.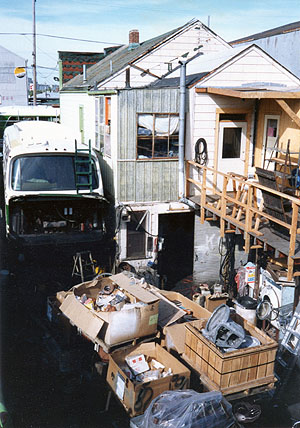 The shop was the basement and backyard
of World Headquarters. Bus repairs went
on in the backyard and street out front.
San Francisco, California
The main floor of Tortoise Towers contained the office with all the trip rosters and schedules, and a kitchen and bathroom/shower in the back. Downstairs and in the backyard was the shop with spare parts and enough room to rebuild transmissions and remount tires. Busses lined the street out front where I spent a lot of time underneath busses fixing problems.
For the next 3 or 4 months I alternated between turning wrenches in the shop and answering phones and taking reservations in the office. I got the dirtiest grunt work in the shop, but it was a good position to be in whenever a bus needed to be test driven or turned around, which involved driving it in a big loop through the SF Produce Market at the other end of Jerrold Street. I got good at maneuvering 40' motor coaches through city streets pretty quickly. Gardner noticed me doing this and reminded me that there was no way he was going to entrust the future of his company to a 22 year-old kid, but I had nothing better to do just then, so I kept at it. Other folks who worked there assured me that it was all bluster and that I'd get a chance if I could prove myself.