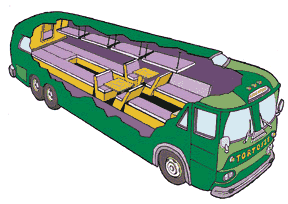 Cutaway View of Green Tortoise Bus
Though I had heard stories, I had never seen anything like the Green Tortoise before.
The bus had all the old seats removed and was now sporting a custom interior; there were bench seats up front, dinette tables in the middle, and a raised platform covered in cushions in the back. Wide bunks with cushions lined the ceiling on both sides.
While on the road I sat in a comfortable seat facing the people that I was traveling with and exchanged stories of where we were from and where we were going. During a stop later that evening one of the passengers bought a big jug of wine that he shared and a group of us talked about travel late into the night. There were mostly Americans, but a couple of Europeans as well, and I thought this was the most interesting bunch of people I had met since returning from Ireland.

The Green Tortoise Company Motto
At one point I commented to one of the drivers that this seemed like a really good trip.
"It's pretty normal actually" he said, seeming rather unimpressed with the journey.
Later that night the drivers led us through converting the bus to 'sleeping mode' where the seats were all turned into beds for the night. I stretched out under the sleeping bag I had carried throughout Ireland and felt a deep enjoyment of being completely comfortable while rolling through Northern California in the moonlight.
In the morning I woke up in the bus parked by the side of a rural road. I was told we were in Southern Oregon. We got out of the bus and the drivers directed us in the unloading of a camp kitchen, and in a little less than an hour we were eating home-made pancakes, fruit salad and cowboy coffee. After washing the dishes a group of us peeled off our clothes in the morning fog and jumped into the chilly creek for a dip.
"Does this happen on every trip?" I asked the driver.
"Yep" was all he said in return.
I spent the rest of the journey marveling at a style of travel that I had never thought possible, but which seemed completely natural. Before getting off the bus in Eugene I asked the driver what it took to work for the company. He asked if I had a bus driver's license, but unfortunately the answer was no.
Thinking About Eugene
Once in Eugene I called my friend, got directions, and found her house. I met some of her friends and they seemed like a nice bunch of people. I started to think that settling in Eugene might be a good idea; it felt new and different, but with a lifestyle I was familiar with from Portsmouth. It was large enough to have it's own culture and character, The University of Oregon was right in town, and it had a vibrant and eclectic mix of people.
Thinking About The Tortoise
I also kept thinking about the bus that had brought me there. It represented something that meant a lot to me: travel, but in a style that fascinated me. I knew when the bus came back through Eugene, so a few days after my arrival I went down to meet it, partly to see it again and partly to retrieve my hat, which I'd left on the bus.
Meeting Gardner
When I got down to the corner where the Tortoise stopped I wasn't waiting alone, there was a long-haired, middle-aged hippie standing there. He also seemed to be waiting for the bus, but his only luggage was a 5 gallon bucket that said "Gear Oil" on the side. As the bus pulled up one of the drivers that I'd talked to on the way up hopped out of the bus and, seeing me, pointed over my shoulder and said, "there's the guy you want to talk to about working for the Tortoise". I turned and realized he was pointing to the hippie with the gear oil, and so I met Gardner Kent, the founder and owner of the Green Tortoise.
Gardner and the two drivers then proceeded to change out the gear oil on the bus in the parking lot of the Southern Pacific Railroad station in downtown Eugene. I offered to help and Gardner handed me a wrench and told me to loosen the fluid drain bolt on the bottom of the transmission. While we were working I asked him about working for the company.
He asked me the same question as the driver, "Have you got a bus license?".
I figured I was out of luck at that point, but Gardner suggested that I hang out for a few minutes. He finished up with the bus and sent them on their way, and I helped load the used gear oil into his car.
Thinking About Lowell
We went to one of the nearby taverns and talked. I could tell he was sizing me up, so I talked about my skills and my desire to drive and finally he said something like, "we'll you're too young to drive, you don't have a license and I'm not going to teach you, but I've got a piece of property outside Eugene that has some work that needs doing".
It was not exactly what I wanted to hear, but I needed a job and I could tell that the folks I was staying with didn't want me there forever, so I said yes. We settled on an hourly rate and I went back to my friend's house, packed my stuff, said thank you and goodbye, and took the Lane Country Transit bus out to Lowell, Oregon.